National Symposium: Save The Date
The EPA and DOE Home Performance with ENERGY STAR program hosts the National Symposium for its sponsors, contractors, and others who promote energy efficiency in existing homes. The symposium will be held on April 27 in Kansas City, MO (8:30 to 4:30) and provides the best opportunity for Home Performance sponsors and ENERGY STAR to exchange ideas, promote best practices, and improve delivery of services. Come join us at the ACI conference to get a jump-start on what will surely be an exciting and dynamic year for energy efficiency programs! As we've done in the past, we will have an "HPwES 101" session for those who are just getting started with HPwES that Sunday evening before the symposium from 7:00 to 8:30 pm.
New Northern Virginia Pilot Program in Development
Although we continue to add new program sponsors each year, DOE and EPA are also exploring new opportunities to increase the growth and reach of HPwES and to reduce implementation costs. In 2009, we plan to pilot an alternative quality assurance approach in Northern Virginia. This pilot will allow ENERGY STAR to partner directly with home performance contractors and define HPwES as a package of improvements that saves 20% on total energy use. This approach is explained in a draft "Proposal to Pilot Test a Home Performance with ENERGY STAR Contractor Partnership." You may request a copy of the proposal using the HPwES mailbox (Homeperformance@energystar.gov). Please include "HPwES Pilot Comments" in the subject line so that we can easily identify them.
Have Questions or Need Assistance? Need Toolkit Access?
The HPwES mailbox (Homeperformance@energystar.gov) has been established to respond promptly to any questions or concerns that arise in your delivery of HPwES. One of the more frequent requests for assistance has been to obtain marketing toolkit access for participating contractors and sponsor staff. Whether you are providing a list of new participating contractors who need access to the toolkit, resolving problems for existing contractors who once had - or never had - access, or any other matter, the HPwES mailbox is the place to start!
The HPwES mailbox is there to provide you with timely answers and information.
Reward the Champions Who Deliver Your HPwES Program
For those participating contractors who have reported 100 or more jobs, EPA and DOE will recognize those outstanding performers with a national award. Help foster loyalty among your best contractors and give them a marketing edge by telling them of the chance to earn national recognition for being a market leader in home performance. Sponsors and contractors don't have to take any additional action to be considered for the awards, but timely 4th quarter sponsor reporting of jobs will help to ensure that eligible participating contractors will be recognized. We are hoping to have multiple "Century Club Contractors" to recognize – but sponsors must submit 4th quarter – 2008 year end - reports by January 31st 2009 to have contractors eligible for award.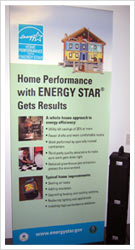 New Banner Stand Available
The new banner stand is here! Promote the Home Performance with ENERGY STAR program at public events, stakeholder meetings, public utility commission hearings, or other venues. The banner displays the new home graphic and provides a simple and quick method to communicate the value of HPwES. Please send any requests to Homeperformance@energystar.gov.
Sponsors will be given first priority for use of the banner, but participating contractors may use it as well. Availability and duration will be determined on a first-come first-served basis. Please put in your request now.
New Video Coming Soon
We have a new "What to Expect" video to help initially explain HPwES to your customers. Used at the front end of explaining HPwES, our program contractors will be able to more readily connect themselves with this national program – and hopefully be in a better position to sell more work. The seven minute video answers many of the questions homeowners may have about Home Performance with ENERGY STAR. Sponsors and participating contractors can use the video on their websites to educate a large number of customers in a way that text and telephone conversations cannot. Get your contractors' phones to ring more frequently and with better informed customers through the use of the new HPwES "What to Expect" video.
Tax Credit Extensions
Congress and President Bush recently enacted extensions to the energy efficient tax credits. The Emergency Economic Stabilization Act of 2008 provides incentives for the purchase of a variety of energy efficient products, as well as residential renewable energy systems. A detailed list of these tax credits can be found at ENERGY STAR's Federal Tax Credits for Energy Efficiency webpage.
Upcoming Events
As well as the National Symposium in April, there are a variety of events and conferences that can assist in the successful promotion and delivery of Home Performance with ENERGY STAR:
RESNET Conference, New Orleans, LA, Feb 16-18, 2009*
ACI Northwest Conference, Portland, OR, Feb 3-5, 2009
ACI Home Performance Conference, Kansas City, MO, Apr 27-May 1, 2009
* Please visit us as we present "Home Performance with ENERGY STAR: What Works and What Doesn't" at the RESNET Conference, Tuesday February 17 from 10:30 a.m. to noon in the St. Charles Room A.